Acqualina Resort and Residence on the Beach
Miami Beach, Florida
SWIPE THROUGH GALLERY
"Without fail, the Acqualina team delivers impeccable service from the moment you arrive to the day you depart."
Description
Acqualina is a one-of-a-kind property completely open to the sea, free of any barriers or boardwalks, allowing it to emulate a Mediterranean villa. With only 98 oversized accommodations – half of them oceanfront suites with full kitchens – Acqualina evokes a residential coastal ambiance. With three restaurants on property, including Il Mulino New York and Costa Grill (the only seaside restaurant in Miami), along with a pastry marketplace, foodies have plenty of dining options. As a luxury family resort, an added benefit for parents is the opportunity to take advantage of the complimentary, award-winning Acquamarine Kids camp for children 5-12 years old.
Vibe
Clients are consistently impressed with the Acqualina's attention-to-detail! With adjustments made for COVID-era travel, guests can expect temperature checks before entering the hotel. As an amenity, you're given a care package with masks and hand sanitizers. Plus, there are plexiglass dividers at the check-in desk, concierge desk, and pool check-in (with a deck that has hand sanitizer throughout). As a final touch, the entire staff is wearing their Frette masks with the Acqualina Logo!
Michael Schertz
Rooms + Suites
Rooms and suites are designed to offer a sense of modern luxury with classic furnishing and finishes. Each of the 54 rooms and 44 suites presents an oversized floorplan, private terrace, 5-fixure bathrooms (with bathtub separated from the shower) and queen size sleeper sofas. In general, Miami Beach is known for having Art Deco buildings with small rooms, but Acqualina defies that stereotype from further north in Sunny Isles where its guest room product starts at 650 square feet. The rooms are extremely spacious, elegantly designed and perfect for families.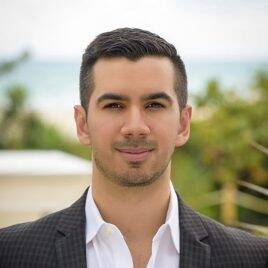 Albert Valera
Pool + Gym
There are three pools on property; two are for families (the Beachclub pool has a zero-degree entrance which is perfect for small children), and one pool only for adults. For those who want to squeeze in a workout, there is a large gym, and the team and can organize private classes, for instance, yoga.
Spa
Set against the tranquil ocean and stunning white sands of Miami Beach, Acqualina Spa by ESPA is an indulgent retreat for relaxation and rejuvenation. Experience the true pleasures of the world-class, 20,000 square foot facility, which features state-of-the-art treatment rooms, relaxation lounges, private and special occasion Royal Spa Suite, and magnificent outdoor terrace retreat. Embracing the legendary European Day Spa philosophy that each visit is a journey, your experience begins with our signature selection of Ayurvedic-infused holistic, restorative and meditative treatments for face and body.
Restaurants
Within Acqualina's Mediterranean villa environment, giests will find some of the best in al fresco dining in all of Miami. At Costa Grill, experience delicious Mediterranean selections steps from the beach while Il Mulino New York offers renowned Italian cuisine in a high-energy setting. Acqualina's gorgeous outdoors also sets the scene for a beautiful picnic in paradise. As the sun sets, Acqualina transforms into one of the most beautiful places where you can enjoy a memorable evening with your family with our under the stars beachfront dinners.
Bar
AQ Bar is inspired by the smooth and sultry era of the Parisian jazz movement. The stylish interiors stimulate creativity and intellectual conversations while guests sip hand-crafted cocktails and play chess or backgammon on custom art-inspired game sets. Brass finishes, an antique mirror, and midcentury modern furniture create an eclectic vibe. In partnership with Fine Art Mia, an elaborate collection of original contemporary art adorns the walls of the bar creating a gallery feel. AQ Bar provides an excellent option for cocktail hour and pre- and post-dinner drinks. In addition to high-quality wine and champagne menu, guests are invited to enjoy the mixologist's own creations such as Eternal Summer (vodka, fresh mint, fresh watermelon juice, homemade jalapeño syrup, lime) Mezcal Dreamer (mezcal, hibiscus flower syrup, cucumber, lemon) and many more.
Who's it for?
The clientele is predominantly families, couples, and girlfriend getaways. For families with older kids, there's a small soccer area, basketball hoops, and the beach is right there (no boardwalk) so kids have freedom between pools and beach!
Christin McKay
Location
Sunny Isles Beach is a high-end residential beach, located between South Beach and Fort Lauderdale. Only five minutes from the lush Bal Harbor Shops and three minutes from Aventura Mall, there is shopping, restaurants and activities nearby. The property is also only five minutes from Oleta State Park, Florida's largest urban park, which offers kayaking, standup paddle, picnic, biking and hiking.
Book Now
Connect with an agent to plan your next trip.