Calistoga Ranch, an Auberge Resort
Calistoga, California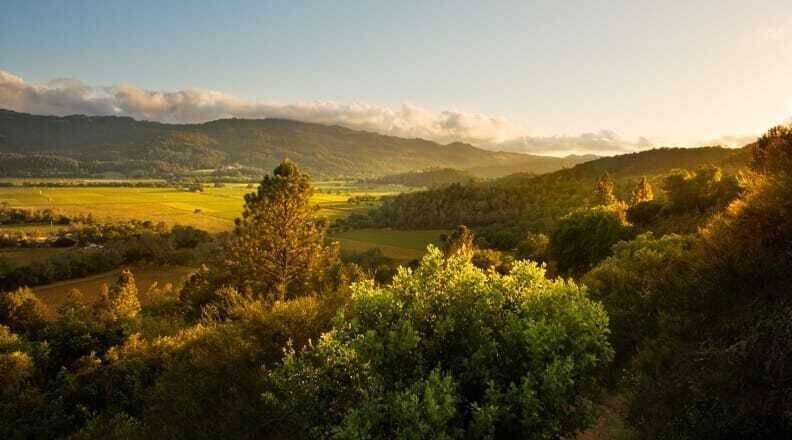 SWIPE THROUGH GALLERY
"Heaven in Napa Valley"
Style
Wellness
Romance
Hideaway
Vibe
Secluded luxury.
The ultimate west coast getaway for nature lovers, wine connoisseurs and those seeking solitude.
Rooms
50 Lodges:
Bay Forest Lodge with Spa
Bay Forest Lodge
Deluxe Lodge
Hillside Deluxe Lodge
Meadow Lodge
Meadow Lodge with Spa
Oak Creek Lodge with Spa
The Estate Lodge
The rooms at Calistoga are one and two-bedroom lodges. They were incredible offering each guest an indoor and outdoor experience. All have a fireplace and outdoor shower. Ours had an outdoor jacuzzi. The bed was one of the most comfortable beds I have EVER slept in. So much so, I wanted to bring it home! The lodges have flat-screen TVs, Italian linens, floor-to-ceiling windows and spacious bathrooms with large soaking tubs. The lodges that have living rooms have beautiful furniture, flat-screen TVs, gorgeous floors, a fireplace, and plenty of seating. And the kitchen/dining room modules are state-of-the art, with stainless steel appliances, and granite counter tops.
Pool & Gym
There are two pools – family and adult. Absolutely GORGEOUS SETTING!!!I took an amazing yoga class that is usually on a yoga deck that overlooks the valley but it was freezing so it was moved into the clubhouse. Still great (will discuss more).
Spa
The spa is located on the banks of Lake Lommel, which pays homage to the centuries-old legacy of the healing waters of Calistoga. There are natural thermal baths and treatment rooms that are set in a tranquil setting relaxing the body and mind. There is even a relaxation deck. The Calistoga 150 minute is the ultimate treatment! It's a therapeutic body scrub followed by a private outdoor mud or mineral salt bath. You can then rest quietly while receiving an energy balancing session, and finish with their Classic Ranch Massage.
Restaurant
The Lakehouse restaurant overlooks Lake Lommel. They serve breakfast, lunch and dinner. Breakfast was amazing! extensive wine list.
Bar
Beautifully set on over Lake Lommel.
Kids
Yes. There is a family pool, bocce court. I was there with my kids however I do think that the hotel is more for couples.
Getting there
Drove from Yosemite! Located in Napa!!! (see below)
Location
Situated on 157 acres of picture-perfect California wine country. Calistoga Ranch is tucked into the valley on the north east side of the Silverado trail.
Book Now
Connect with an agent to plan your next trip.